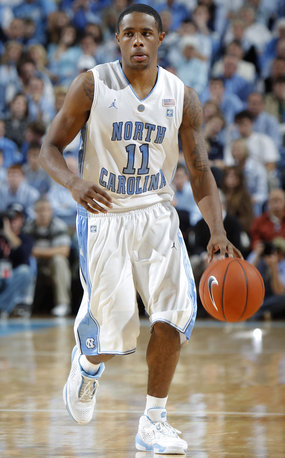 Posted by Matt Norlander
Many years down the road, when I hope I'm still in this business and well-connected to players and coaches much more than I am now, that's when I'll have the right to kill a kid over transferring in February.
But I don't know Larry Drew II. At all. I don't know Roy Williams. I don't know the culture of North Carolina basketball under Williams and with Drew. So I'll leave the circumstances regarding the point guard's
unnatural jettisoning
of the Tar Heels' program to
experienced vets
who've got
plenty more
stitches
on their lapels
than I (which is to say: none).
What I am (barely) qualified to handle: telling you how much this really isn't going to impact North Carolina.
With a 16-5 overall mark and a
6-1 record
in-conference, the Tar Heels are currently is second place in the ACC. If they've made it this far with Drew on board, it's unlikely they'll flare off into dangerous territory without him. In fact, many a fan will be all too happy to tell you how often Williams' team won in spite of their much-maligned point guard.
North Carolina has trekked back into successful territory this season thanks to Williams' signature fast, secondary-break offense, along with a defense that's
improved significantly
in forcing opponents into taking bad shots.
Drew's
traditional statistical numbers
dipped in almost every category this year, as the shorter leash didn't seem to inspire him to make the most of his minutes.
Not only was he a small part of the 2010-11 UNC machine, the fact Drew started at the 1 for 90 percent of the Tar Heels' games to this point and still managed to pull off being the
ninth-most effective player
on the team is something that's incredibly rare.
To be frank: starting point guards who get overshadowed, from a production standpoint, by eight guys in front of them usually share a surname with a coach. This just doesn't happen; or, at least it's not supposed to. The fact that it
was
happening made the UNC fanbase's constant consternation over it all the more legitimate/expected/anticipated/per
missible. Some could argue Drew's "invisibility" on the floor was as much an indictment on Williams' patience as anything, but I digress.
Let's look through a little more evidence. Drew was 224th in assist rate (the percentage of possessions he delivers an assist on) and 397th in steal rate. Those are the only two tempo-free categories in which Drew ranks in the top 10, nationally, and he is hardly elite in either, as you can see. The biggest indictment on Drew's ability (and, by proxy, making Williams look a fool): In his short time replacing Drew as a starter, freshman point guard Kendall Marshall is already
fifth-best
in the country
at distributing the ball. Simply amazing.
With Kendall needing not to look over his shoulder for the rest of this season, his production stands to continue at a high rate, especially in the average ACC.
My take is not revolutionary or original; I'm merely trying to push the stamp down for indelible emphasis' sake — Drew's departure is dramatic off the floor, but hardly impactful on it. Don't expect as much as a hiccup from UNC over this.
Photo: US PRESSWIRE