Posted by MATT JONES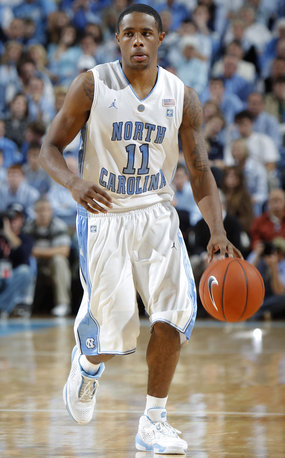 No college basketball program in the country is prouder of its basketball alumni base than North Carolina. During the Dean Smith era, the image of a "UNC family" was cultivated and has become as large a part of UNC lore as its baby blue uniforms. The family concept plays a large part in recruiting, as the Tar Heels make use of their notable NBA alumni as well as any program in America, usually in the form of having the players coincidentally show up on campus when top flight recruits make their visits. It even affects decisions about the program, most famously showcased when the UNC leadership chose an inexperienced Matt Doherty to take over for Bill Guthridge, rather than trust the ship to someone outside the family. The image and reality of a UNC basketball cosa nostra is a large part of what makes North Carolina basketball unique and the family concept is to be cultivated and encouraged at all times.
That is partially why the story of Larry Drew quitting the team mid-season took many by surprise. It isn't uncommon for UNC to have transfers, as unworthy McDonald's All Americans ranging from Neil Fingleton to the Wear brothers have left the program over the years due to a lack of playing time or unharnessed ability. And, as
Matt Norlander pointed out here yesterday
, from a production standpoint, losing Larry Drew will be of little significance to Roy Williams's team this season or in the future. But for a player who has been a significant part of the rotation to just up and leave in the middle of the year with virtually no notice, well that suggests a rift in the family atmosphere that has previously been uncommon, or at least unspoken, in Chapel Hill.
Enter the wonderful world of Facebook. Yesterday, former UNC player Damion Grant posted well wishes for Larry Drew on his Facebook status saying, "always hate to see a player leave the fam, but no one can judge unless you walked in his shoes. Best wishes lil homie. Nothing but love Drew II." That set off a firestorm of comments on Grant's Facebook wall and led to this response by former UNC player Rashad McCants' father, James (the
screen shot is linked here
and contains some blatant salty language):
"He did what was best for him, simply because THE CURRENT COACH IS A PIECE OF (EXPLETIVE) (EXPLETIVE) AND i DON'T RECOMMEND ANYONE GET RECRUITED BY HIM HE WILL WRECK YOUR CAREER IF YOU ARE NOT AWARE OF HIS UNDERHANDED TACTIC AND INSINCERITY. BEWARE!!!!!!!
The topic then led to more back and forth conversation between McCants' father and other UNC fans in the comment section. Those comments included more criticism by McCants towards Williams, but have all since been removed, leaving us only with the screen shot above courtesy of The Devils' Den Duke Twitter feed (shocking that a Duke fan site would record it for posterity and future conversation, I know).
It has always been rumored that Rashad McCants did not enjoy his time in Chapel Hill and had a decidedly rocky relationship with Coach Roy Williams. On at least one occasion, McCants has denied those rumors, but his father's comments suggest that the relationship was, at best, far from perfect.
In the end, North Carolina will survive Larry Drew's departure on the court and his replacement at the point, Kendall Marshall is a better longterm solution for the Heels anyway. But his departure does poke some holes into the "one big happy UNC family" picture that is such an important part of the Carolina program and mystique. The notion that things are simply different at Carolina because the UNC family has a special strong lifetime bond that can't be severed looks to be, at least in some cases, a complete myth. Don't believe me? Just ask James McCants.