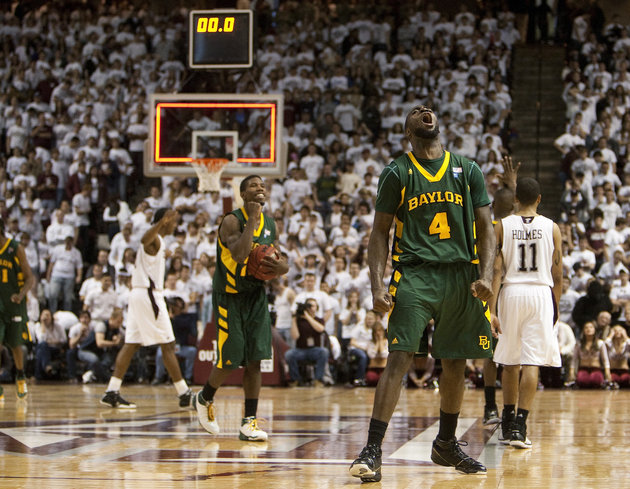 Posted by Matt Norlander
It's turned out to be a pretty fun Saturday, to be honest, and I'm sort of feeling bad about that
post title from yesterday.
While there's still more content we'll give to you before the night's over, I did want to take a minute to give some dap to
two Big 12 teams
who went on the road and won in spots they really, really needed to. I apologize for the minor tardiness for this post, but Angevine and Jones are off the hook for the rest of the night, and I just got back from an assigment for a piece you'll see on the site come Wednesday.
OK, enough of my excuse-making; let's get to the controlled praising.
We'll start with Baylor (15-7, 5-4) first, as it had the more-impressive victory by defeating No. 16 Texas A&M,
76-74.
Freshman (and one-and-done player, to boot) Perry Jones had a magnificent game, scoring 27, but it was Anthony Jones' tip-in at the end of overtime that sealed it for the Bears.
I did find myself in front of a TV for the end of regulation and overtime, and it was a bit odd to see Baylor play with such gumption in hostile territory. This could all be part of Texas A&M's grand plan to slowly but surely fade itself out of relevance (whatever relevance it very briefly flirted with a few weeks back) on the national scene, but point is, Baylor got the win and it wasn't easy. Who knows if it can snag an at-large. If it does, today will be considered the watershed moment. Next up: home against Nebraska Tuesday, at Texas next Saturday. A must-win followed by a tall task that Baylor simply can't get blown out of.
Speaking of game-winning layups, thanks to Jacob Pullen, the Wildcats
won in a similar manner to their Bear brethren.
The opponent, Iowa State, isn't nearly the quality of the Aggies, but winning at Hilton Coliseum is considered to be one of the more underplayed tough tasks is all major-conference basketball.
Gun to my head, I'm not picking Kansas State (16-8, 4-5) to make The Tournament, but that's more to do with other conferences snagging up bids. (Big East with 11? Anyone with me there?). Had KSU lost today, few would've gotten out of sorts with it, but the Wildcats' season would have been, for all intents and purposes, over. Not the case anymore. K-State now gets a full week to rest before a road game at Colorado, then a home game against Kansas. Frank Martin's team must go 1-1 there.
Stay tuned for more posts. I've got quite the dunk video coming up. White boys straight flyin', yo! (K, I'll stop typing like that.)

Photo: AP