The semester break is the closest thing college basketball has to the trade deadline.
It's when new players become eligible, whether because of a transfer or from academic ineligibility. Moreover, many injured players point to the semester break as the return point. Of course, lots of players come with hype and anticipation; last year, Josh Selby, Drew Gordon, Renardo Sidney, Jio Fontan and others all became eligible around the same time.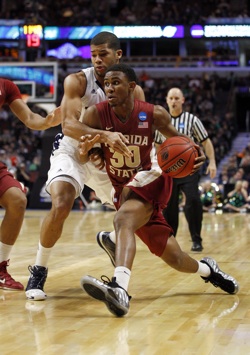 This year's crop of additions isn't as strong at the top, but there are still some impact players in the mix. Remember, though, not everyone lives up to the hype – there was a reason they left their former team or were suspended in the first place.
Kevin Ware, Louisville: Academically ineligible for the first semester, Ware should step in and provide depth with his length and athleticism.
Ian Miller, Florida State: The Seminoles have lacked players who can create their own shot, but Miller (right) has shown the quickness to do that.
Reggie Johnson, Miami (Fl.): The injured big man should return in January for the Hurricanes. He's a double-double lock on a nightly basis.
Gary Franklin, Baylor: Franklin (top) won't solve Baylor's turnover issues, but the Cal transfer gives Scott Drew another option to run the offense.
Tony Mitchell, North Texas: Could turn around the Sun Belt race for North Texas. He could be one of top 30 impact freshmen in the country.
Pe'Shon Howard and Alex Len, Maryland: Howard will return from injury, while Len from NCAA suspension. Maryland needs their help.
Kadeem Jack, Rutgers: Mike Rice told CBSSports.com that Jack would start practicing in January. Would give the Scarlet Knights an inside option.
Guy Landry, Gonzaga: Suspended by the NCAA for eight games for playing professionally in France, Landry could play against Arizona.
Drew Viney and Ashley Hamilton, Loyola Marymount: The Lions top two scorers should return from injury in January; Max Good has some firepower.
Reggie Smith, UNLV: The Marquette transfer made an impact with his defense in the Big East; the Runnin' Rebels could use the Chicagoan.
Matt Carlino, BYU: Carlino graduated high school a year early to play at UCLA, but he transferred last December. He'll provide perimeter offense.

Ferrakohn Hall, Memphis: The Seton Hall transfer will become eligible against Louisville on Saturday. He'll be a nice piece and provide some depth.
Brandon Mobley, Seton Hall: He injured his shoulder over the summer, and has yet to play. However, he was cleared and should help inside.
Devoe Joseph, Oregon: He's played the last two games for the Ducks, averaging 15.5 points and 5.0 assists in two wins. Big boost for Dana Altman.
Ty Walker, Wake Forest: Walker was suspended for the first semester by the school, but returned last week against Seton Hall.
Twany Beckham, Kentucky: The Mississippi State transfer isn't a stud, but he should be able to provide some backup point guard minutes.
Mike McFadden, Robert Morris: The Iona transfer hopes to provide some perimeter help for the Colonials, alongside Velton Jones.
Photo: US Presswire