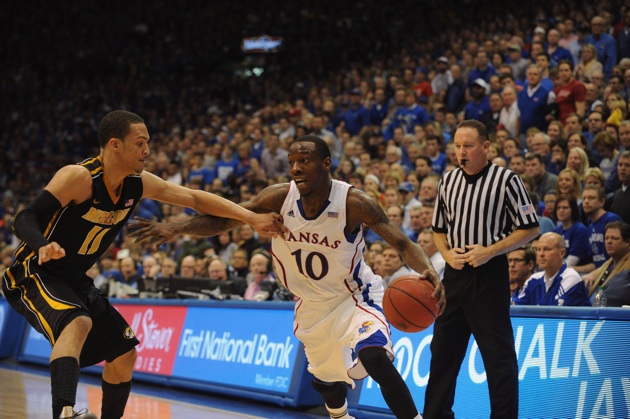 In perhaps the game of the year, Tyshawn Taylor's two free throws with 8.3 seconds left in overtime gave Kansas a come-from-behind 87-86 win over Missouri. (US Presswire)
On busier Saturdays and Sundays this season, we're not going to make you wait until the end of the slate of games to catch up with all that's happened. Afternoon Delight (3-pointers in flight!) recaps the first five-or-so hours' worth of action, the perfecta appetizer right before dinnertime.
Note: We're covering most of the bubble action over at Poppin' Bubbles, so we'll try to keep the bubble talk to a minimum over here.
The best we've seen so far: Goodman will have something on this game pretty soon, but we couldn't post this without mentioning perhaps the Game of the Year. It was hyped, it was packed, it was loud. Missouri's trip to Kansas. The Tigers were rolling out of the gate, getting Thomas Robinson and Jeff Withey sidelined in the early going. After pushing the lead to as many as 19 points in the second half, Kansas roared back behind dominance from Thomas Robinson and the 3-point shooting of Connor Teahan. The Jayhawks tied it up with 16 seconds left in regulation, and we got five extra minutes. Kansas looked like it might pull away, but Marcus Denmon wasn't going to allow that -- knocking down a baseline jumper with 12.1 seconds left. Tyshawn Taylor responded by hitting two free throws with 8.3 left to give Kansas an 87-86 win. It's a shame we won't see this game again for a long time. What a game, what a rivalry.
Deserving of a free dinner at the restaurant of their choice: Kentucky continues to take everyone's best shot – and then punch back down the stretch for a comfortable win. The Wildcats did it again on Saturday, despite trailing by one at the half to Vanderbilt. Anthony Davis was absolutely dominant for Kentucky, finishing with 28 points, 11 rebounds and five blocks. He also demonstrated some things we haven't seen from him in awhile, including face-up jumpers from the perimeter and the ability to go off the dribble.
No soup for you: Just as some people were starting to trust Florida again, the Gators go out and lose to Georgia. Brad Beal had 19 and 12 for Florida, but the Gators shot just 5-of-23 from 3-point range and turned it over 12 times in the 76-62 loss. Kentavious Caldwell-Pope led five guys in double-figures for Georgia.
Afternoon all-stars
Fordham's Chris Gaston went for 35 points and 16 rebounds in Fordham's win over La Salle. The best part: he had 15 offensive rebounds. Fifteen. Offensive. Rebounds.
Providence freshman LaDontae Henton had 24 points and 15 rebounds, plus the game-winning shot, to beat DePaul.
Buffalo senior Mitchell Watt had a nice all-around line: 28 points, five rebounds, four assists and three blocks.
Mike Moore, in his last home game for Hofstra, dropped 30 to beat UNC-Wilmington.
Chris Crawford, off the bench for Memphis: 16 points, seven rebounds, eight assists, three steals.
Other daytime action worth your attention
Iowa State essentially punched its ticket to the Dance by beating Kansas State on the road. The Cyclones are now 11-5 in the Big 12.
St. John's snapped Notre Dame's nine-game winning streak by holding off the Fighting Irish down the stretch. Syracuse also clinched the No. 1 seed in the Big East tournament as a result.
Austin Rivers came up big once again for Duke, who needed overtime to dispatch of Virginia Tech.
Virginia seemed to have another one of the ACC's elite on the ropes, but the Cavaliers couldn't knock down shots down the stretch and fell by three to North Carolina.
It wasn't pretty for Baylor, but the Bears overcame a sluggish first half to beat Oklahoma.
Wichita State got revenge for its lone loss in 2012, hammering Drake by 23.
In other Missouri Valley action, Creighton survived a last-second miss to beat Indiana State by one.
Old Dominion's Kent Bazemore had a chance to tie Drexel in the final second, getting fouled on a 3-pointer with 0.7 seconds left. He missed one of the free throws and Drexel won.
Arkansas finally won a road game, beating Auburn, 77-71.
Air Force always seems to play well against UNLV, and the Runnin' Rebels only scored 68 points. But Air Force only managed 58.
Georgetown steamrolled Villanova, 67-46.
Delightful (and not-so-delightful) thoughts
If you're wondering why some games aren't included, check out Poppin' Bubbles. Parrish will have Night Court tonight.
Norfolk State put pressure on Savannah State to win today, by beating Bethune-Cookman. Savannah obliged, knocking off NC-Central.
Bucknell clinched the outright Patriot League title, defeating Navy.
Haven't seen video of it, but there was apparently some tomfoolery in the Marshall vs. Memphis game. We'll keep you posted.
More College Basketball coverage