Posted by Eric Angevine
It's not often we spend time wondering if coaches who play for the national title will stick around, but this has been an unusual season that way. There are legitimate reasons why either Jim Calhoun or Brad Stevens might leave a cushy nest feathered with elite play after this season, so let's look at the gears that are grinding in Storrs and Indianapolis.
Jim Calhoun
The thought process surrounding Calhoun possibly leaving the University of Connecticut goes something like this: he's old and the sherriff's after him. The man is 68, he has three national titles under his belt and he's already in the Hall of Fame. Why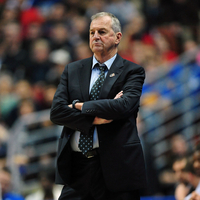 continue to drive that nail? UNC head coach Roy Williams went on the Dan Patrick Show today and advised Calhoun to "go to Hilton Head and tee it up and relax and enjoy your grandchildren." Obviously, ol' Roy can be counted on to dispense accurate advice about golf, but his own self-interest in chasing a third title of his own might not make him the best arbiter of another coach's future plans.
The rest of the question is: should Calhoun run before the NCAA smites him? There's still plenty of concern around the program that things could get ugly in that regard, so doesn't it make sense to step down rather than risk getting caught in the mess? Sure, another guy runs, but Calhoun likes to fight even when it doesn't make sense to battle on. The cantankerous fellow famously refused to accept his slap on the wrist – a three-game suspension -- from college basketball's governing body this fall. He fights everything all the time. It's what makes him a great coach, but the old expression will tell you that only a fool fights in a burning house.
So, if we were to take odds on Calhoun retiring one step ahead of the law, an eminently sensible move, we'd have to guess that there isn't a chance in Hades of such a result happening. The former stonecutter will have to be carried kicking and screaming out of the arena if he's going to go.
Brad Stevens
Here, the assumption is that Stevens will follow the lure of big money to another job. Obviously, Butler is pretty much THE plum mid-major job at this point, but American culture is built upon upward mobility. The conventional wisdom says that nobody turns down the big bucks when they're offered. Thad Matta didn't, and he's now coaching the elite Ohio State Buckeyes. Todd Lickliter didn't, and he's... not so busy these days, since Iowa fired him after a horrific run.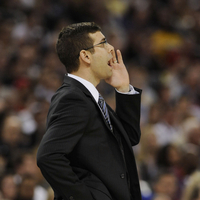 That's where things get confusing for Stevens. Is it worth messing with the good thing he has? Back-to-back Final Fours? Matta can't say that. Heck, only Tom Izzo and Ben Howland have recent experience on that score, and look how hard it was for them to maintain that level even with all the money in the world at their disposal. At last accounting, Butler poured 2.8 million into basketball at the small private school, putting them 98th overall in hoops expenditures. That's right in the range of most A-10 schools, but not in the Gonzaga/Memphis stratosphere. All told, it's not a bad place to be at all, and Stevens seems like the kind of guy who measures twice and cuts once. He's not going to make a rash decision that he might regret later.

Scuttlebutt says that Stevens would certainly leave for the right opportunity, and that's just sensible. If Indiana or Purdue ever came calling, wouldn't he have to listen? But none of the jobs open today are anywhere near that no-brainer level. Again, we say this guy stays put.

Will both guys be back in the national title hunt next season? It's a tall order. But as long as they're bringing the coaching genius to a sideline near you, college hoops is going to be a fun ride again in 2011-12.

Photos: US Presswire