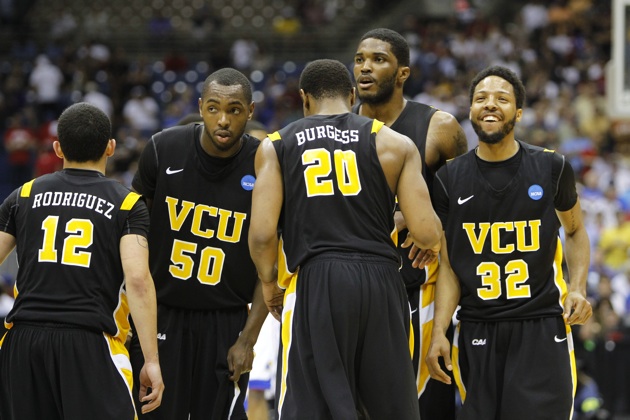 Posted by Jeff Borzello
SAN ANTONIO – Well, where to start?
How about the most impressive Final Four run in NCAA tournament history?
VCU's First Four to Final Four story is the first of its kind, and certainly won't be repeated for a very long time, if not ever. Two weeks ago, the majority of people were saying the Rams didn't belong in the NCAA tournament. Now, there's very little room left on the bandwagon. The chances of VCU making the first Final Four in program history after finishing fourth in the CAA were next to nothing; this run is absolutely mind-boggling.
The emergence of Shaka Smart as the hottest name in the coaching world has been a story itself. The affable young coaching whiz has had a weirdly interesting relationship with the media throughout the entire regional. Media members love him, swoon over him, stop at nothing to praise him. At the same time, Smart has played the "nobody believes in us" card every game, using media clips to demonstrate the doubt.
A loose, easygoing group of disrespected kids led by a likeable young coach who feeds into that personality? It's easy to fall in love with the Rams, and their play on the court has cemented that feeling. They pressure the ball defensively, knock down 3-pointers on the offensive end and get up and down the court in a hurry.
Write off VCU at your own peril. Your words are sure to be repeated over and over, and then rubbed in your face afterwards.
And you'll still love this team and its leader.
Regional MVP: Jamie Skeen, VCU. Skeen's performance against Kansas on Sunday was nothing short of extraordinary. Going up against three future first-round picks in the Morris twins and Thomas Robinson, one might think Skeen was at a disadvantage. All he did was go out and finish with 26 points and 10 rebounds, knocking down four 3-pointers in the process. He played 38 minutes and didn't pick up a single foul.
All-regional team
Joey Rodriguez, VCU

Bradford Burgess, VCU

Jamie Skeen, VCU

Brandon Rozzell, VCU

Marcus Morris, Kansas
Game to remember: VCU 72, Florida State 71. The only overtime game in the regional, and a welcomed change after four third-round blowouts and a 20-point Kansas-Richmond margin. Florida State overcame a nine-point deficit in the final seven minutes to force overtime, and it looked like VCU's run might be over. Not with Shaka Smart at the helm. With six seconds left, Smart designed a play that got Bradford Burgess a wide-open layup to give VCU the one-poiint win.
Game to forget: Florida State 71, Notre Dame 57. Blowouts are ugly. Florida State plays ugly. When the Seminoles are on the winning end of a blowout? Hideous. Second-seeded Notre Dame shot 32 percent from the field, and Florida State led by as many as 23 points in the second half. The Seminoles completely dominated the Fighting Irish with their physicality and athleticism.
Biggest disappointment: Everyone. With only three higher-seeded teams advancing out of the round of 64, this region had its share of disappointments. Purdue and Notre Dame were manhandled in the third round and Kansas also fell earlier than expected. When a No. 11 seed wins the region, it's tough to single out just one disappointment.
Best individual performance in a losing effort: JaJuan Johnson, Purdue. It wasn't Johnson's fault that Purdue was blown out by VCU, 94-76. Johnson went for 25 points and 14 rebounds, blocking three shots and shooting 11-for-20 from the field.
Most memorable moments
Team to watch out for next year: Louisville. The Cardinals vastly outperformed expectations this season, despite not having much talent on the roster. Next season, that will change. Wayne Blackshear and Chane Behanan are McDonald's All-Americans, and Rakeem Buckeles and Jared Swopshire should finally be healthy. Peyton Siva and Kyle Kuric are also primed for breakout seasons.
Photo: US Presswire