By Jeff Goodman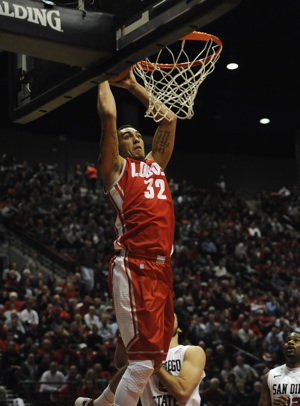 New Mexico's win at SDSU on Wednesday likely vaults the Lobos into the NCAA tournament. (US Presswire)
New Mexico finally got that win.
The Lobos had been searching for a resume victory since, well, all season long. Steve Alford's team got its most impressive win to date on New Year's Eve against Saint Louis at The Pit, but it came up empty in its two January opportunities against UNLV and San Diego State, thus putting the Lobos on the wrong side of The Bubble.
There were just two chances left on the slate -- last night at San Diego State and Saturday morning at home against UNLV. If New Mexico couldn't get one of those two, it would likely be headed to the NIT.
But it all changed last night with the crucial road win at the Viejas Center against San Diego State. These days, the Viejas Center is one of the most difficult venues on the west coast, maybe even the country. I saw it first-hand twice last season.
"It was huge for us with the league race," Alford said on Thursday morning. "No question. But as far as the NCAA is concerned, we've been consistent ... we felt like our body of work was good enough."
Not if the Lobos had gone 0-for-4 against the Mountain West's big boys of San Diego State and UNLV.
It's been difficult to get a feel for this team this season despite the abundance of talent in Albuquerque. The Lobos lost to New Mexico State and Santa Clara early in the year and beat up one some of the bottom-feeder BCS teams (Arizona State, Boston College, Washington State and USC). But last night showed the potential that this New Mexico team boats -- led by veteran big man Drew Gordon (17 points, 17 rebounds).
Guards Kendall Williams (21 points) and Jamal Fenton (15 points) stepped up last night while talented sophomore wing Tony Snell struggled again against the Aztecs -- being held scoreless. Phillip McDonald, the team's top perimeter shooter, also finished with the goose-egg -- yet New Mexico came away with a fairly decisive win.
"We didn't get a point from those guys and still won by 10," Alford said. "But we've been a deep team all year."
Maybe I'm nuts, but I think this could be a deep and also a dangerous team -- as long as they get into the NCAA tournament. However, right now the Lobos still aren't a lock to go dancing.
That could change Saturday -- as long as Alford & Co. can get the Mountain West's top-ranked team, UNLV, at The Pit.
A victory would put the Lobos two games in front of UNLV and also a game up on the Aztecs with four regular-season contests remaining.
"It's a huge game," Alford said. "If UNLV beats us, it's a three-way tie again. If we beat them, we're two up and it's pretty much us and San Diego State."