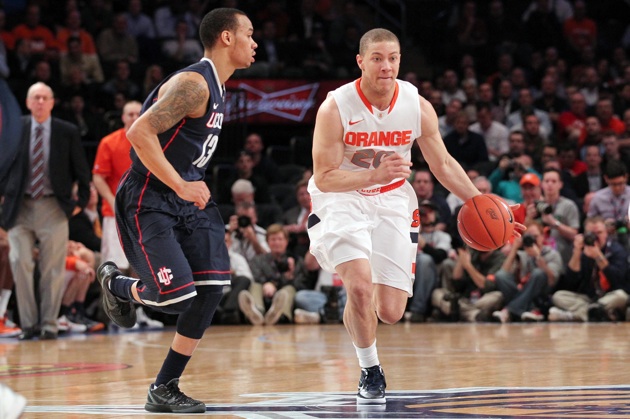 Despite the off-court distractions, Brandon Triche and Syracuse continue to win. (US Presswire)
By Jeff Goodman
NEW YORK -- We've been waiting for Syracuse to slip-up throughout the season, free-fall and spiral downward with all the off-court turmoil that has surrounded the program.
The Bernie Fine allegations, Fab Melo's suspension and the latest an NCAA investigation into the alleged cover-up of failed drug tests.
"These kids care about two things," Boeheim said after his team pulled out a 58-55 win over UConn to advance to the Big East semifinals. "How they play and where their girlfriend's are."
Maybe he's right.
This Syracuse team improved to 31-1 after the victory against an enigmatic, yet talented Huskies group.
Let's face it: This Orange group doesn't rank second when it comes to pure talent. In fact, it might not even crack the top five. But these guys have depth, chemistry and most importantly, tunnel vision.
"I don't pay it no mind," Orange sophomore guard Dion Waiters said. "I wasn't here for the drug stuff, the Fine stuff is out of our hands."
"We don't know anything about it," teammate Scoop Jardine added about the latest news.
I never gave the 'Cuse much of a chance to win the title. Not when this team goes up against Kentucky or North Carolina. But there's enough talent -- and these guys truly enjoy playing with one another. All you have to do is look at Jardine, spending most of his time on the bench in the second half against UConn, to become witness.
Jardine was busy smiling, laughing and cheering on his teammates, a far cry from the old Scoop - who would have been pouting and complaining about sitting on the bench.
"He's come a long way," Syracuse coach-in-waiting Mike Hopkins said. "He's become a great leader."
"The chemistry isn't even close to what it was here," Jardine said. "And I think I was a part of the problem in the past."
James Southerland, the team's ninth man in what's arguably the deepest rotation in the country, came through on Thursday with a couple of huge second-half shots to made sure the 'Cuse didn't leave New York City early in the Big East tourney. The team's leading scorer, Kris Joseph, struggled -- but there's enough overall talent that this team won't go down due to the issues of one guy.
These guys have come closer, Syracuse athletic director Darryl Gross, told me -- with all of the off-court issues that have surrounded the program.
Boeheim addressed Yahoo! Sports recent story that multiple former Syracuse players tested positive for drugs and the team still allowed them to play.
"This was reported it five years ago," he said. "We're waiting for them to finish the process."
Then Boeheim declined to be specific, moments later in the hallways of Madison Square Garden saying only that it's "been a long time." Later Thursday, ESPN reported that the NCAA issued a statement that said it "received a self-report from Syracuse University on October 27, 2010."
"None of this bothers our players, our team or me," he said. "None of this. If things were bothering us, we wouldn't be 31-1. Nothing bothers us."
Then Boeheim became Boeheim, jovial and sarcasm seeping through while talking to the media on Thursday afternoon in the post-game news conference. He made fun of Kris Joseph for his 1-for-8 performance with an injury to his non-shooting hand. Then he joked that Peyton Manning should come to the New York Jets.
"How Coach (Boeheim) has handled it all has made it a lot easier for all of us," Jardine said. "He's doing a good job and we're just going up and racking up wins."
"You don't get many opportunities to be on a team like this," Waiters added.
Not a 31-win team that has received more attention off the court than it has on it.